In the spirit of bringing friends together during the holiday season, I thought I'd bring some of my mil spouse bloggy friends together to share our thoughts about the holidays. And what better way to do that than a blog swap. So I proudly present to you the Mil Spouse Holiday Blog Swap 2011!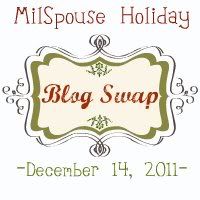 What's a blog swap? It's kind of like a Secret Santa, but instead of exchanging gifts, we're exchanging blogs. For one day, 28 military spouses will be guest posting for each other as we contemplate all things holiday. So check out all of the amazing participants of the Mil Spouse Holiday Blog Swap in the linky below as we invade each other's blogs!
You can find my holiday post over at Rebekah Sanderlin's
Operation Marriage.
Rebekah is an incredible writer with a VERY impressive resume. NPR, CNN, Washington Post, New York Times... the list goes on and on!!! (Check it out for yourself
HERE
!)
And who is my guest blogger today? Well, I'm hosting the amazing
Homefront United Network
.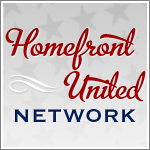 The Homefront United Network is a product of Angela Caban's desire to connect military spouses and family members in a positive and supportive environment. It's a place "for you to gain resources, vent, support others and celebrate our lives as military spouses, family and friends." The HUN, which is currently celebrating its one year anniversary, offers articles written by a variety of mil spouses, a ton of resources for military families, fun giveaways, and the all-knowing Military Martha to answer your burning questions about military life. If you've never visited the HUN before, you're truly missing out.
But enough chatter from me! It's time to hear from Amanda Allen, one of those awesome writers you can find at the HUN. So take it away Homefront United Network...
Where to Spend Our Christmas
I was listening to Christmas music on the radio yesterday while driving and a popular Christmas carol came on. The lyrics, that I'm sure we have all heard, says "I'll be home for Christmas." And I couldn't help but stop to pause and think about exactly what that meant to the singer and what it means to me personally, and my family as a military family.
"Home," after all, is a pretty complex concept for a Military family! Is home where we are currently living where we have a house? Is home a place we lived and felt most comfortable or "at home?" Is home where we grew up? Is home where our family/parents are currently living? Or, in response to the ever so popular quote, is home where the military sends us? Is home where our significant other is?
As a military family, choosing where and who to spend our Christmas with can be a tough decision! Do you stay at your house in your current station where ever that may be? Do you go to see his family? Do you go to see her family? Do you have your relatives come to your house?
My husband and I have been married for just over 3 years now and this Christmas will be our fourth together. Our first Christmas we put up a dinky little tree in our apartment but spent our time with all of my family on Christmas eve, a few hours alone just the few of us that night, and then he worked Christmas day. The next year we drove to Seattle to spend Christmas with my mom and little brother. The next year I was living in Minnesota with my adopted family while he was in training in prep for deployment so he came to Minnesota and spent the time with us. But this year, this year was the first really hard "where do we spend Christmas" decision we had to make.
We just got stationed on the East Coast away from all of our family, we bought our first home, and our daughter is old enough to get excited about the decorations and presents and just everything that is Christmas. Where is home for us right now? Where do we spend Christmas to make the most of it? If we go out of town do we put up decorations?
After a lot of debate, and some emotions on my end, we decided it was best for our family to stay home… in our family home. After all, "home is where the navy sends us" right? We have taken up root here and we want to start building traditions as a family! It's hard for me to imagine Christmas without all the traditions and togetherness of all the different parts of my family, but I know we will make it great here. Maybe one year we will be able to have family come and visit us!
Where is "home" for you at the holidays? Do you have your own family traditions or are you constantly traveling to meet everyone's expectations for the Holidays?
The holiday season is upon us! People are busy shopping for the perfect gifts for loved ones, finalizing travel plans, decorating their homes, and cuddling up on the couch for that special holiday movie. And somewhere amidst all the chaos, we bloggers still manage to find the time to write about it.