I am so excited because today I'm a guest writer on the Homefront United Network!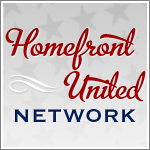 If you've never heard of the HUN, you need to go check them out. It's a place for military spouses and families to reach out and support each other, share stories, and find resources. (To read more about the HUN and its founder, military writer Angela Caban, click here.)
So after you read my post, Month of the Military Child, make sure you stay awhile and get to know the HUN!